Making tab books in Excel
Crunch enables you to DIY self-service when it comes to producing tab books.
Tab books can be useful to give to clients who want to look at data in Excel. Increasingly, many Crunch users actually share a folder and/or dashboard with your client so they can do their own custom cuts (and thus not need tab books).
Tab books enable you to produce multiple custom statistics and/or the choice of column comparison letters (ie: the ABCD letters to denote pairwise of cells that are significantly different). Note: these same export settings are also available in the Edit section of the deck.
How to export your multitables as tab books
In the upper right corner, you have the option to Export your tabs (multitables) to Excel.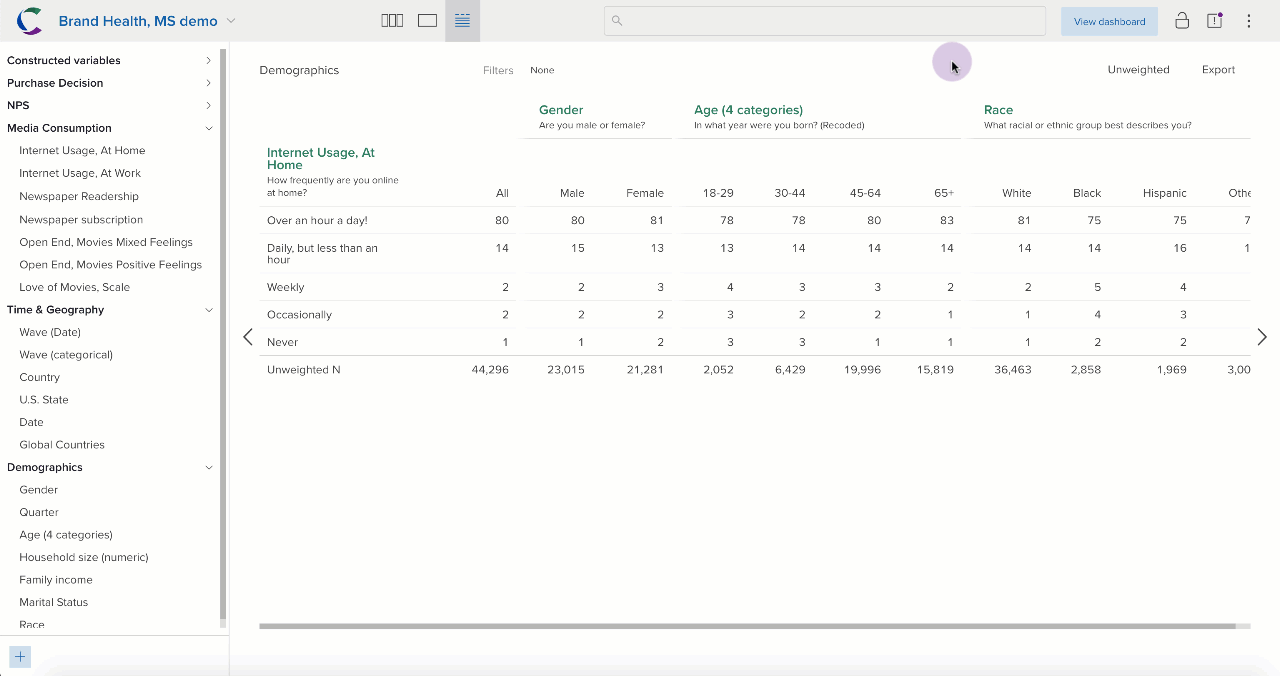 You can choose all or a selection of variables, including whole folders are specific variables within a folder. (Again, another good reason to have your variables well organized in the Variable Sidebar!)
Furthermore, you can choose whether you want a filter or weight to be applied to the tabs you are exporting.
To use the default export settings, just click Export and then Download. Otherwise, to customize the export, select Settings first.
Customizing the export
Researchers and their clients often have different preferences for Excel outputs, so Crunch gives you the ability to customize your Excel exports. These customizations include:
including a Table of Contents
changing the significance testing from shading to column t-tests (ie: ABCD letters)
selecting other/multiple statistics for the cells (eg: if you want the counts and %'s, or more)
inclusion or exclusion of base rows (and whether they are weighted or not)The menu is hopefully self-explanatory and we encourage you to try all the different options.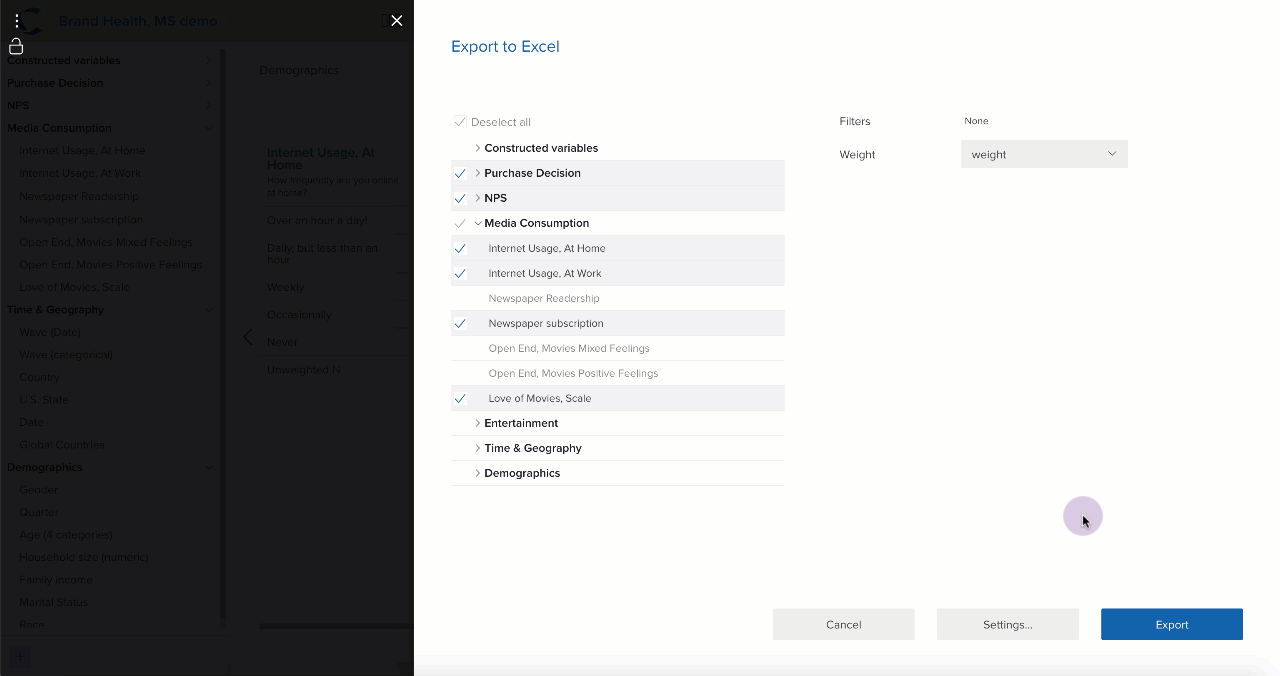 Note: if you want both upper and lower case letters, you need to select the column t-tests and then select two boxes.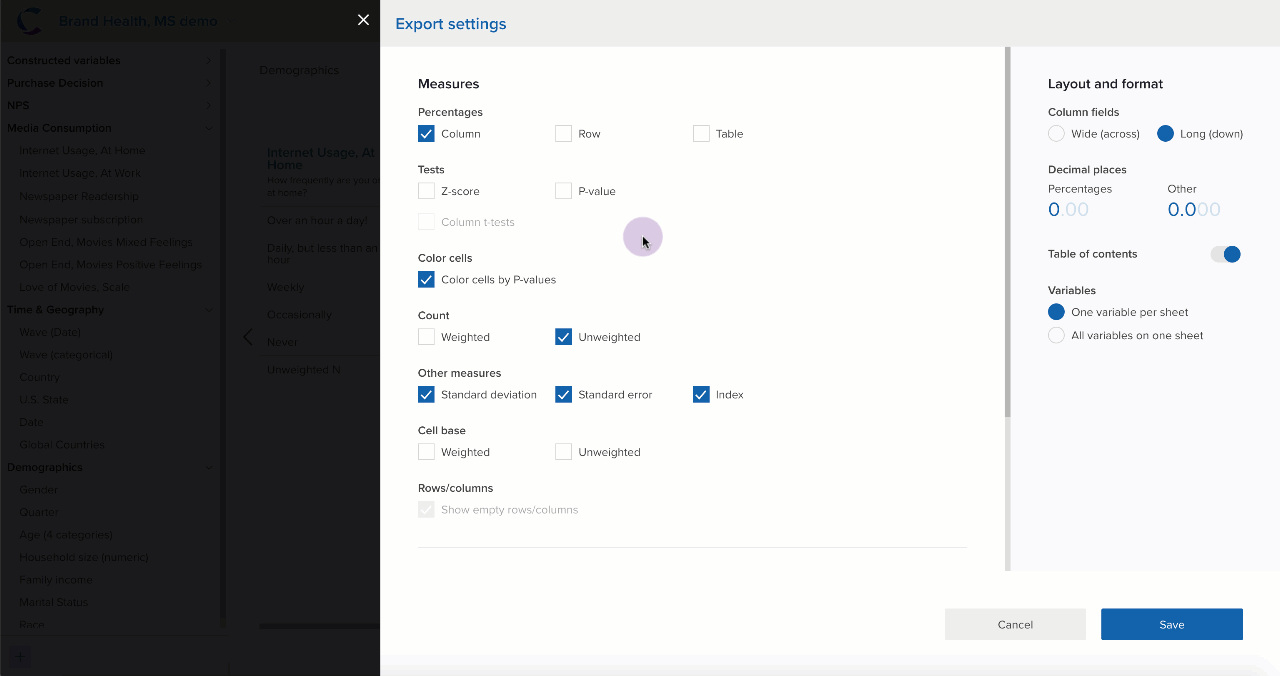 Frequently asked questions
Can tab books have other levels of significance (eg: 80% confidence)?
At this point in time, not in the web app. Your DP department can make custom tab books via scripting that have custom alpha values (eg: 80% confidence).
Can the multitables (banners) have nested layers/spans?
Only via interactions. "Nesting" (with one layer on top of the other) is something that may be available in the future.
Can you show the letters in the web app?
Only in the exports to Excel (in tab books and from tables in the deck too).
The web app provides an interactive environment to change the column of focus (grey column) with set comparisons. This enables a range of significance to be shown (not just 2-levels). It also preserves the clean interface online that is not overcrowded with too many letters.
Can you show the counts and the percentages in the web app?
Only in the exports to Excel (in tab books and from tables in the deck too). Again, this because the online environment is interactive (with the Display Controller) for you to change the statistic shown. Traditional tab books do not have this ability. It also provides a cleaner web app experience.
Can you have different filters and weights on different tabs? Or have multiple tabs with option of multiple row variables on each?
Not in the web app. Your DP department can use the Crunch API to make custom tab books.