Dataset Level User Access
Different users have different levels of access to Crunch features. The higher levels have access to all the areas of the lower levels, as illustrated in the diagram below.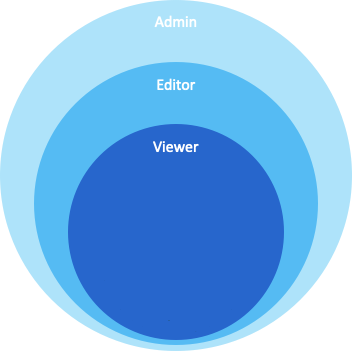 In general, the Editors set up datasets into folders (which manage templates, user access, etc). The Editors curate the experience of the dataset for the Viewers.
Some researchers want a dashboard-only view for their end-clients. That is, their clients experience the dashboard with no access to the underlying dataset. Instructions on how to configure here.
Crunch is currently working on more granular permissions (eg: something in-between Editor and Viewer so that Viewers can make their own dashboards).
The following is a summary of what the Viewer and Editors can do (Editors can do everything Viewers can do).
Viewer-Level Access

Editor-Level Access

View & Search
Import Data

Create

Decks
Filters
Multitables1
Personal variables
Combining categories and responses (new personal variable)
Crosstabs and graphs

Create

Dashboards
Datasets
Folders
Subtotals (nets) on variables
Public variables
Weights
Exclusions2
Create and restore save points
Create and publish draft

Edit

Change currently applied weight
Save analyses to a deck

Edit

Edit dashboards
Edit existing datasets they have access to
Edit permissions
Retitle and organize variables
Copy a dataset
Archive/delete datasets
Join/append data3
Move datasets

Export

Datasets and dashboards
Datasets to CSV or SPSS

Share

Crunchboxes
Datasets
Filters, multitables, and decks with team

Share

Filters and multitables with whole dataset
1Multitables are also referred to as tabs, banners, or cross breaks.
2Remove cases/rows.
3Add variables and cases.
Functionality by User Type
Functionality

Viewer-Level Access

Editor-Level Access

Import
Import datasets
✓
View & Search
View datasets
✓
✓
Search data
✓
✓

Edit

Archive/delete datasets
✓
Change currently applied weight
✓
✓
Copy a dataset
✓
Edit dashboards
✓
Edit existing datasets they have access to
✓
Edit permissions
✓
Join/append data
✓
Move datasets
✓
Rename and organize variables
✓
Save analyses toa deck
✓
✓

Create

Create decks
✓
✓
Create crosstabs and graphs
✓
✓
Create filters
✓
✓
Create multitables
✓
✓
Create personal variables
✓
✓
Create datasets
✓
Create and publish draft
✓
Create and restore save points
✓
Create folders
✓
Create public variables
✓
Create weights
✓
Create Crunchboxes
✓
Create dashboards
✓
Create exclusions
✓

Export

Export datasets and dashboards
✓
✓
Export datasets to CSV or SPSS
✓
✓
Share
Share datasets
✓
✓
Share Crunchboxes
✓
✓
Share filters and multitables with whole dataset
✓
✓
Share filters, multitables, and decks with team
✓
✓